Performing with rock stars, exploring the depths of the ocean floor, piloting fighter jets — if the rich can dream it up, luxury concierges can make it happen.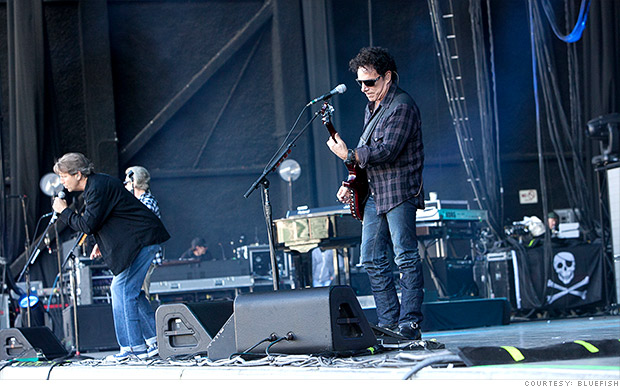 Companies like They, a Los Angeles-based concierge service that caters to super rich entrepreneurs, are in the business of making fantasies come true — for those who can shell out thousands of dollars a year.
The group, which has about 400 members, said it has gotten clients on stage to sing with Journey, into a submarine for a trip to the Titanic and on fighter jets for laser dogfights over the Mojave Desert.
"Someone said to me once that we make the Wizard of Oz look like an amateur," said Steve Sims, founder of They. "I can't believe the stuff we do."
Concierge services like They have cropped up across the globe to help the 1% book business travel, score hard-to-get reservations or concert tickets, and plan extravagant parties with celebrity guests. The client doesn't have to lift a finger, make a call or scour the internet.
But all this convenience and access comes at a price. Membership fees range from a few thousand dollars to nearly six figures a year for a family.
They charges a $5,000 annual membership fee, plus an additional commission on what a client books.
Fees to join Montreal-based service Pure Entertainment Group start at $12,000 per person for more basic perks and go up to $65,000 per couple per year.The fees cover the cost of airport transportation, three weekend getaways, and preferred rates for hotels and airfare. On top of that, members pay a 5% to 7% commission for whatever private jet or tickets they book through the concierge, according to CEO Steve Edo. Nonmembers can also use the basic concierge service, but pay commissions of 15% to 20%.
The group has about 100 members, and many of the memberships also include personalization of services — phone calls on birthdays and anniversaries, tailoring a vacation's reservations based on a client's preferences.
While concierge membership fees and benefits fall on a wide spectrum, they all aim to offer one-of-a-kind experiences and service.
Take, for example, the five-day-long 35th birthday party Edo is helping plan for a client and 15 of his friends.
The birthday boy asked Edo to book a Boeing business jet for 4 hours — at a cost of $110,000 — to fly around aimlessly while a DJ plays and the attendees party on board. The client doesn't want go anywhere — just take off and land in Las Vegas. Edo calls it one of his stranger requests.
The client wanted to pay extra to fly in famed DJs from Europe, but Edo talked him out of it, convincing him to book a more local famous DJ for only a five-figure fee.
"We want to help him do something unique, but at the same time, we have to be reasonable," he said. "I told him if he wants to burn his money on something, I can show him a better way than that."
All told, with the cost of the plane, the DJ and hotel suites, Edo said the trip will cost hundreds of thousands of dollars, while the concierge service receives a five-figure commission.
But at least the client planned in advance — the company charges an additional fee for last-minute requests.